We Make Buying Ford Parts and Accessories Easier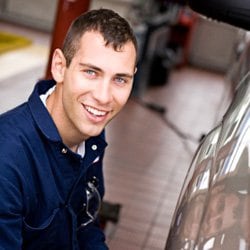 Whether making a repair or adding customization, getting the parts and accessories you need for your automotive project is crucial. Here at Dorrance Ford, we know that process can sometimes be more difficult than it should be, and we're working hard to eliminate the hassle. We don't want our customers to have a hard time finding and ordering what they need, and we absolutely don't want to disappoint those who rely on us. That's why we have knowledgeable staff on hand and sell only genuine Original Equipment Manufacturer (OEM) parts.
Other parts places may sell you after-market or generic auto components. It's easy to think all parts are the same, but that's not the case. Genuine OEM parts are made by the actual vehicle manufacturers. That means they're fabricated specifically to work with the vehicles the manufacturer sells. You can depend on receiving quality, well-made parts that function as they're meant to when you buy OEM components. Unfortunately, the same can't always be said for after-market products.
Another advantage you'll find at our parts and accessories center is a wide assortment of inventory. We try to keep the most common and regularly ordered items in stock. We know the frustration of having to put a project on hold while waiting for the parts to arrive. If we don't have it on hand, we can get it within just a few days in most cases. You can easily order what you need at our website or give our staff a call at Dorrance Ford. Our people know vehicles and can answer any questions you may have or provide guidance on the best supplies for your project.
Get in touch with us with your parts or accessory needs. We want to be sure your next automotive task goes off without a hitch.