Preproduction model shown.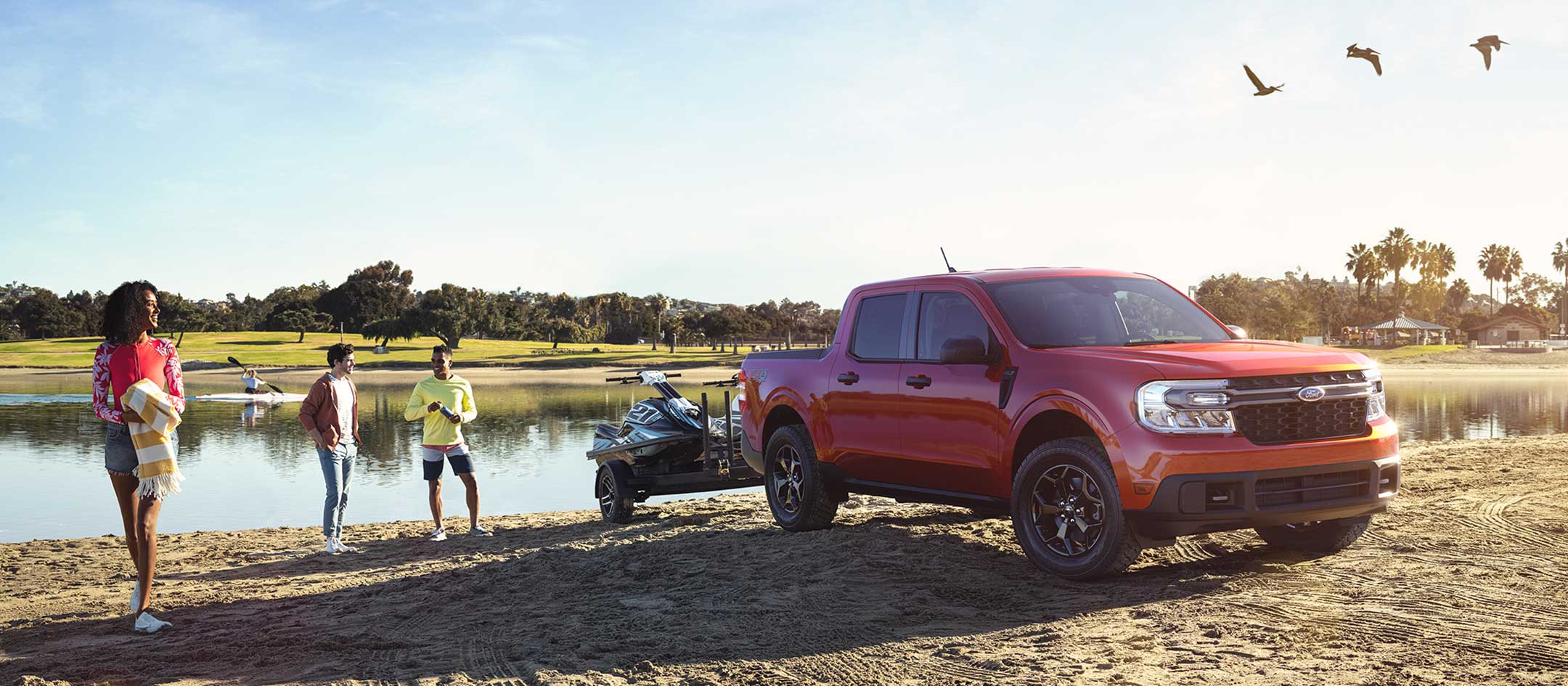 Buy the New 2022 Ford Maverick at Dorrance Ford
The new Ford Maverick is an affordable truck with a unique body mounted on a unibody platform. It has a highly efficient hybrid powertrain and an optional gasoline engine under the hood for the different trim levels. Apart from being an entirely new model, the 2022 Ford Maverick has a versatile cargo bed with several customization options. You can visit us at Dorrance Ford to scan our comprehensive inventory of Ford vehicles, including the latest 2022 Ford Maverick.
Interior
The cabin of the new Ford Maverick is attractive, eye-catching and functional. It has cloth seats with contrast stitching. For instance, it has cloth seats with orange stitching that complement the interior accents on the air vents and door. Leather is available with caramel inserts in higher trim levels.
The Ford Maverick has a generous head and legroom for all the passengers. It has hidden storage compartments in the crew cab's front and rear rows that fit five passengers. In addition, the new Ford Maverick has storage spaces on the door armrests. Furthermore, it has large pockets on the doors that can fit a notebook or tablet.
You will find two storage bins behind the rear seats of the latest Maverick. In addition, you can access these storage compartments by folding the rear seats. The bins can hold sports gear and other small items.
The Ford Integrated Tether System is a custom storage solution. It has an optional accessory package with hooks for groceries, a cord organizer and cup holders.
Technology
The 2022 Ford Maverick arrives with an 8-inch touchscreen with Bluetooth™, Apple CarPlay® and Android Auto™ integration. Potential buyers of the new Ford Maverick should look forward to the FordPass Connect™. It has a built-in Wi-Fi connection that connects a maximum of ten devices. Furthermore, the 2022 Ford Maverick comes with 12-volt power outlets.
Powertrains
The standard powertrain of the new 2022 Ford Maverick is a 2.5-liter Atkinson four-cylinder engine. It derives power from a 94-kWh battery. The engine generates a total of 191 horsepower and 173 pound-feet of torque. Without the electric motor, the gas engine generates 162 horsepower and 155 pound-feet of torque. The estimated combined highway and city fuel economy of the Atkinson is 40 mpg.
Alternatively, truck shoppers can settle for the turbocharged 2.0-liter EcoBoost® four-cylinder engine. It connects with an eight-speed transmission to release output of 250 horsepower and 277 pound-feet of torque. The front-wheel-drive has a higher fuel economy than the all-wheel-drivetrain.
The 2022 Ford Maverick has an FX4 package with residents who love the outdoors. It is available in top-level trims like the Lariat and XLT. In addition, it features all-terrain tires, off-road-oriented monoshock suspensions and underbody protection. Furthermore, the FX4 has drive modes that optimize ruts, mud and sand.
Safety
The 2022 Ford Maverick has Ford Co-Pilot360™, BLIS and evasive steering. BLIS is an acronym standing for a blind-spot information system. The system alerts the driver if there is a vehicle, cyclist or object in the Maverick's blind spot.
The Ford Co-Pilot360™ comes as a separate package for each model of the Maverick. It features rear parking sensors, lane centering, adaptive cruise control and lane departure warning.
Evasive steering assists in the latest Ford Maverick is achieved through cameras and radars on the vehicle. The sensors detect an imminent collision and alert the driver. If the driver fails to act in time, the system applies brakes and steers away from an imminent collision.
You should hit up our dealership and preview the inventory of Ford trucks we have for our customers. We'll be happy to help you schedule a test drive. In addition, you can contact our finance center for more information regarding the financing process of acquiring the 2022 Maverick.
Online Reservation FAQs
What is a reservation?
A reservation lets you select your vehicle and be among the first to order a new Maverick truck from Ford. It is not an actual order and does not guarantee delivery.
What steps are required to complete my reservation?
Go online and select "Reserve Now," fill out the reservation form and submit your request to join the list for a new Maverick truck. A confirmation will display after the form is submitted and an email with be sent to the address in the reservation form.
When can I order my vehicle?
We will help you select and build your Maverick truck. We will also help you agree on pricing and finalize your order for production. The Maverick truck ordering window opens at the beginning of June 2021.
When will my vehicle be delivered?
Maverick truck production and deliveries to Ford Dealers will begin fall 2021. Actual delivery times may vary based on configuration selected, residency and demand. Once your vehicle is scheduled for production, you will receive further notification from us about its status.
Am I buying this vehicle directly from Ford?
No. The purchase agreement will be between you and Dorrance Ford, not you and Ford Motor Company. A deposit is not required from Ford to submit a reservation.
DISCLAIMERS
By completing the reservation process, you are not ordering or purchasing a vehicle. Participation in the program does not guarantee you vehicle delivery. Your reservation does not guarantee a set price for the vehicle.
*2.5L hybrid powertrain. Actual mileage will vary. Final EPA estimated ratings available later in the 2021 calendar year.
** Max payload varies and is based on accessories and vehicle configuration. See label on door jamb for carrying capacity of a specific vehicle.
† Max towing with available 2.0L EcoBoost and 4K Tow Package. Max towing varies based on cargo, vehicle configuration, accessories and number of passengers. EPA-estimated fuel economy, payload and towing are independent attributes and may not be achieved simultaneously.
Apple CarPlay is a trademark of Apple Inc., registered in the U.S. and other countries. Android Auto is a trademark of Google LLC.BANG & OLUFSEN© 2021 and B&O© 2021. BANG & OLUFSEN™ and B&O™ are registered trademarks of Bang & Olufsen Group. Licensed by Harman Becker Automotive Systems Manufacturing Kft. All rights reserved.